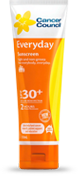 How to apply sunscreen:
For maximum protection, use SPF 30+ or higher broad spectrum sunscreen with a hat, sunglasses, clothing and shade.

Reapply every 2 hours or more frequently after swimming or working up a sweat.

Use the sunscreen calculator to find out how much you need to apply.
Enter your gender, height and weight

Click on the arrows to select the clothing that best represents what you are wearing.
You need to apply approximately

of sunscreen every 2 hours when outside.

No sunscreen provides 100% protection so always use with a broad brimmed hat, sunglasses, covering clothing and shade.